The 77th Laconia Motorcycle Rally & Race Week, June 11-18, 2000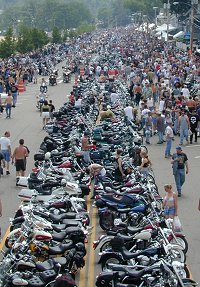 Like "bikes"? If so Laconia is the place to be each year during Motorcycle Rally & Race Week. This year an estimated 320 thousand bikers gathered for the festivities which include races at Loudon, hill climbs at Gunstock, rallies and plenty of opportunities to show off your hardware and admire other's.
The annual gathering was first held as early as 1916 and has grown to become one of the top events for motorcyclists from throughout the US and Canada.
Weirs Beach, a center of activity during Motorcycle Week, is where most bikers go to see and be seen. Bikes rule during this time as no 4 wheel vehicles are allowed into the area. The bikers and motorcycle fans, who fill all the area hotels and cabins to capacity, line the streets to watch the endless parade of Harleys and other bikes in every size, shape and color imaginable.
This collection of pictures was taken in the Weirs Beach area on Saturday, June 17th, 2000.
CLICK HERE TO GO TO THE NEXT PAGE
[PAGE 1] [PAGE 2] [PAGE 3] [PAGE 4] [PAGE 5]
[PAGE 6] [PAGE 7] [PAGE 8] [PAGE 9]


All images and content are copyright © www.Winnipesaukee.com.
You may download and use these images for personal, non-commercial purposes only. Any other use, including but not limited to re-publication on the Internet or any other medium, is not permitted without permission.