The Chateaugay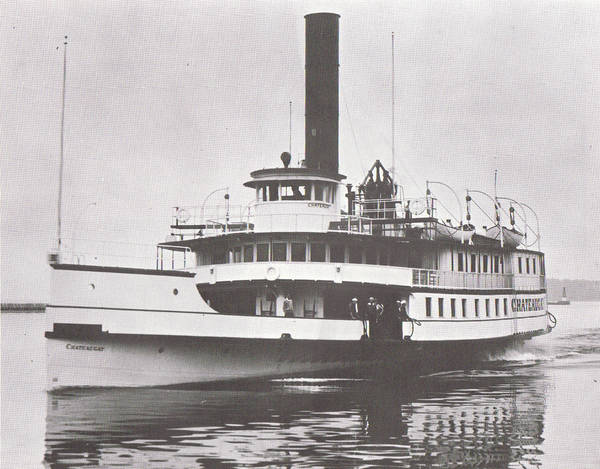 The Chateaugay was designed and built in 1888 in Shelburne, Vermont by the Harlan and Hollingsworth Company of Wilmington, Delaware at a reported cost of $101,000. It was to be used as a passenger excursion boat. The vessel was made of iron mined from Mt. Chateaugay in upstate New York and was the first iron-hulled steamboat on Lake Champlain. It was 203 feet long and was powered by a 1,000 horsepower Fletcher steam engine that could propel her along at about 20 mph. Chateaugay served Champlain Transportation Company's fleet on and off for 51 years.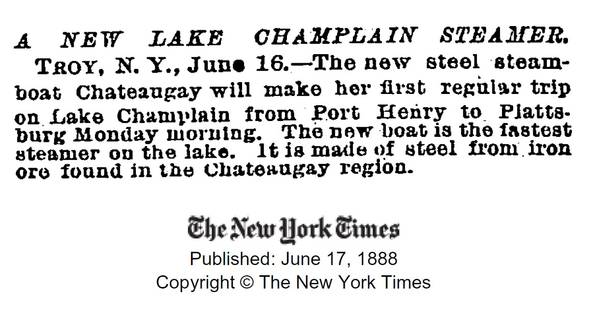 Eventually Chateaugay was replaced by the famous Ticonderoga and was reserved only for special excursions.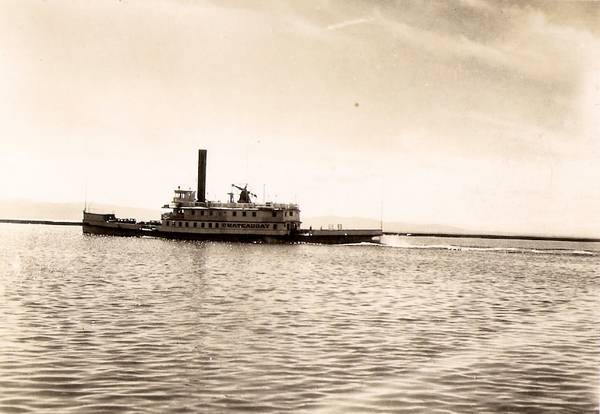 From the
McDude Collection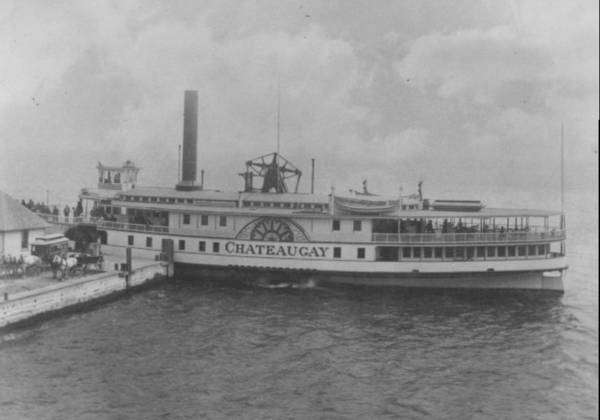 In 1917 she was taken out of service during World War I.
Ticonderoga runs aground in 1919 on a reef off the north end of Isle La Motte. The Chateaugay returns to service for one season while the Ticonderoga is repaired.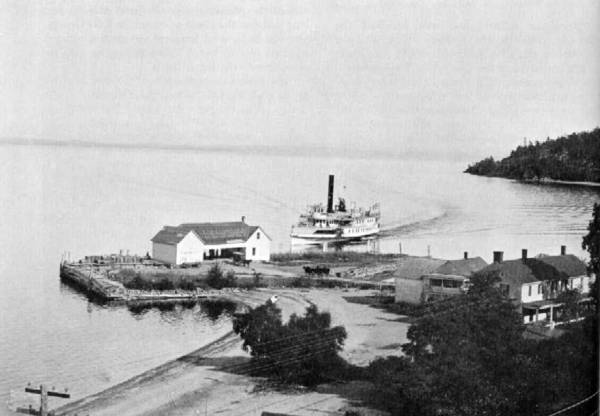 At Port Kent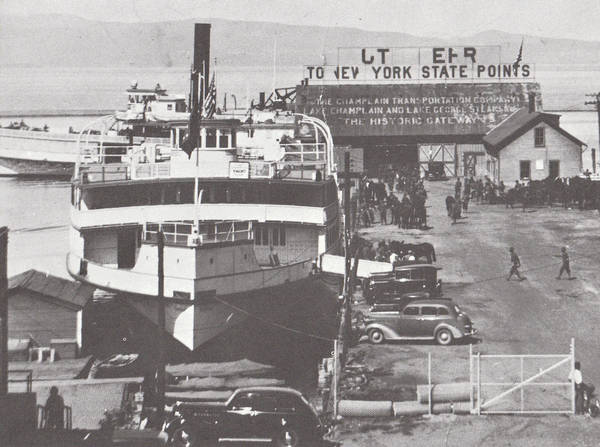 Chateaugay was pulled out of storage and converted into automobile ferry in 1925.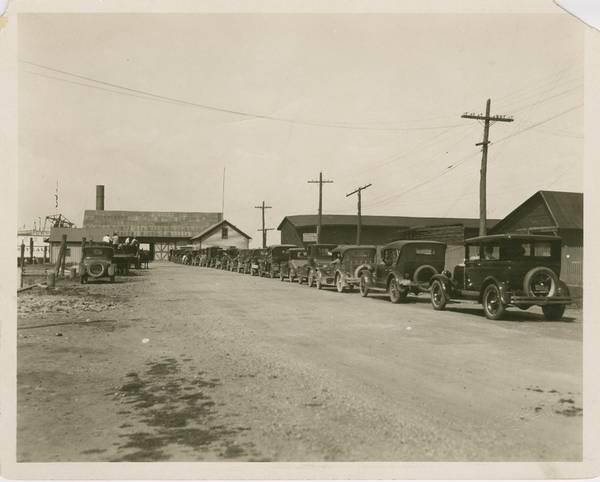 Chateaugay to the far left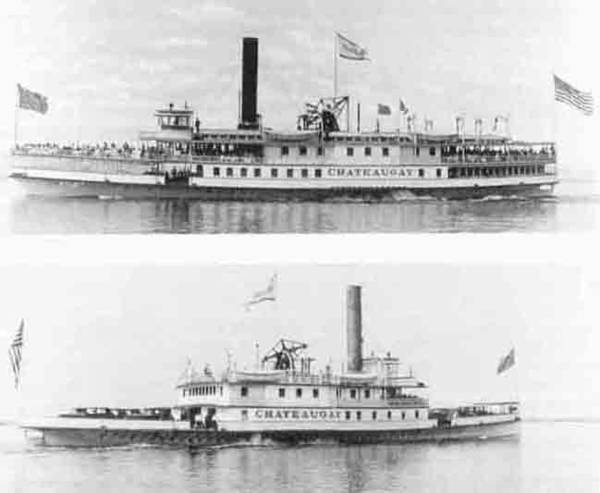 Chateaugay Steamer and Chateaugay Automobile Ferry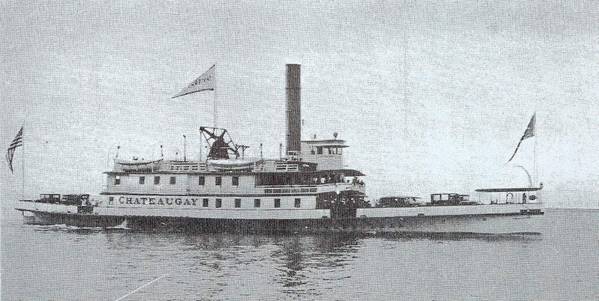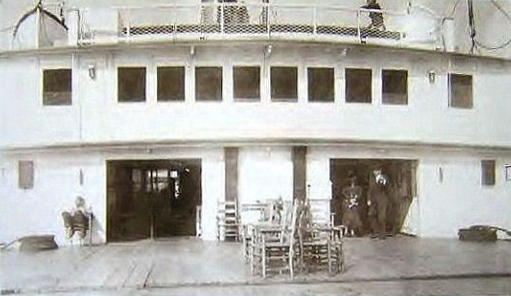 Deck of Chateaugay ferry
She was pressed into flood disaster work in November 1927 during
The New England Flood
. Roads and railways had received a huge amount of damage and could not be used and the lake was the only way to reach people. Chateaugay was loaded down with food, medical supplies, building materials, clothing, refugees, mail and what ever else they could put on her. She navigated the lake without hitting any debris from the flood.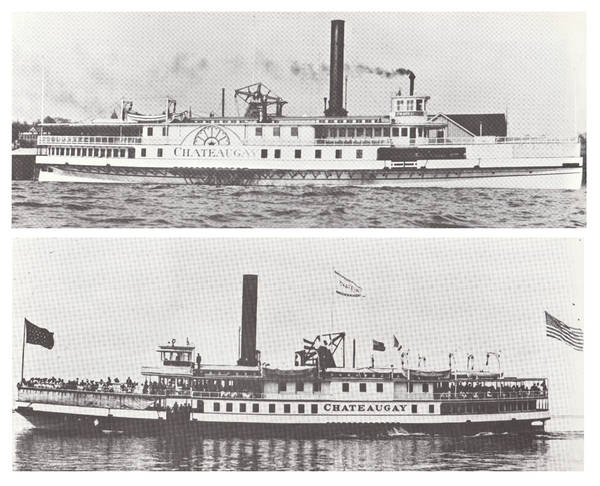 Chateaugay with paddlewheel decoration and later decorated to disguise the fact she was a sidewheeler.
Her machinery was removed in 1939 and sold for scrap. The Lake Champlain Yacht Club rented the steamer Chateaugay for $300 to use as their clubhouse.
It was moored at the foot of King Street in Burlington, Vermont.
December 23, 1939 a fire broke out in the railroad station and destroys the S.S. Mt. Washington, which was moored at The Weirs pier for repairs.
Ending her 67-year rein on Lake Winnipesaukee.


Click here for the history thread about the first Mt. Washington.
Click here for the Lavallee Era history thread.