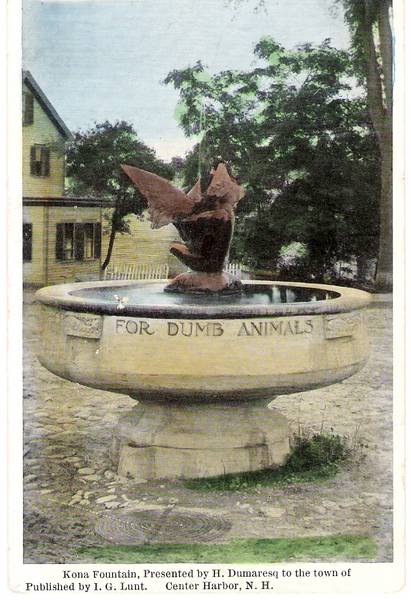 More info on the fountain -
CLICK HERE
CENTER HARBOR — The bronze feather has been taken from the statue of the Indian boy in the Kona Fountain and the town of Center Harbor is offering a reward of $500 for information leading to the arrest of the person or persons responsible or to the safe return of the feather itself.
The theft was discovered on October 14.
The bronze statue, depicting an Indian boy sitting or a boulder and clutching a flapping goose, is the centerpiece of the Kona Fountain, a round watering trough atop a pedestal cut from granite quarried in Concord that stands at the junction of Plymouth Street and Main Street. It was presented to the town in 1907 by Herbert Dumaresq, a wealthy Boston merchant who spent summers at Kona Farm on Moultonborough Neck. The statute was sculpted and cast by Richard Gerry Cook, a protege of Augustus Saint Gaudens.
The Kona Fountain is a significant landmark with significant historical value to the town of Center Harbor and residents of the Lakes Region.
Police Chief Mark Chase urged anyone with information about either who may be responsible or the whereabouts of the feather to call the Center Harbor Police Department at 253-9756.