December Dinner Meeting
Our Christmas Dinner Party will be at Hart's Turkey Farm in Meredith on December 6, 2008.The menu will be the Roast Turkey and Roast Beef Buffet that has been a favorite with our group for several years. There will be cheese and crackers upon arrival. The meal will include all the fixings that go along with dinner, tea, coffee and dessert. Arrival time 6:15PM with dinner at 7PM. Adults $19.50, children $9.00. We need a final count by Dec.3rd. Call Cheryl Higgins at 253-4372 or e-mail at
winnfabric@roadrunner.com
to make your reservation. It is necessary to guarantee 30 guests. We are asking for checks to be made out to the Moultonboro Snowmobile Club. I hope we will have a good turn out for this gathering.
I will be doing a raffle for the Trail Fund and/or Easter Seals. Bring any item you wish to contribute to our raffle table. Being the Christmas season, this is a great chance to find something special for someone on your list.
Last year we did something different. We collected non-perishable items to be donated to a local Food Bank. Instead of a Yankee Swap, this year I would like to continue this project and make our collection even greater. Christmas is a time for sharing.
Hope to see you on Dec. 6th. for a good meal and time to chat. Cheryl
Please check our Website for full Dinner Meeting and Events schedule.
www.moultonborosmc.org/Events.htm
The Tucker has been delivered!
Our new Tucker 1000HD groomer was delivered to us on Sunday the 2nd of November. Don Lemien had the privilege of backing it off the trailer. It is a piece of equipment the Club can be proud of to say "It is Ours". Several of the groomer Operators were on hand for a test ride. It is a very impressive machine. Brian Hall to a short video of the Tucker, see it on youtube
http://www.youtube.com/watch?v=VGz86VVjlm8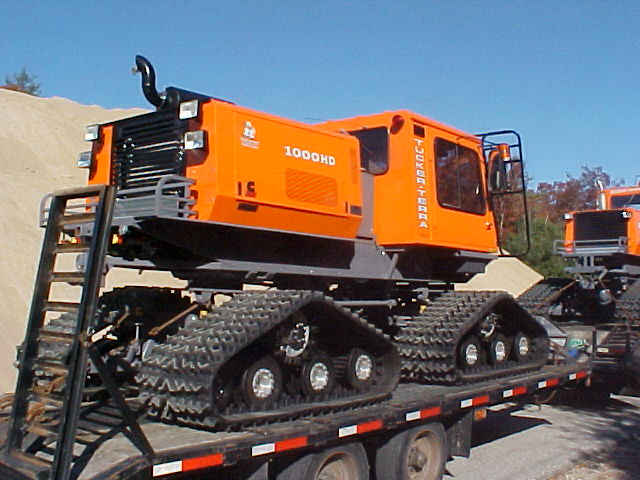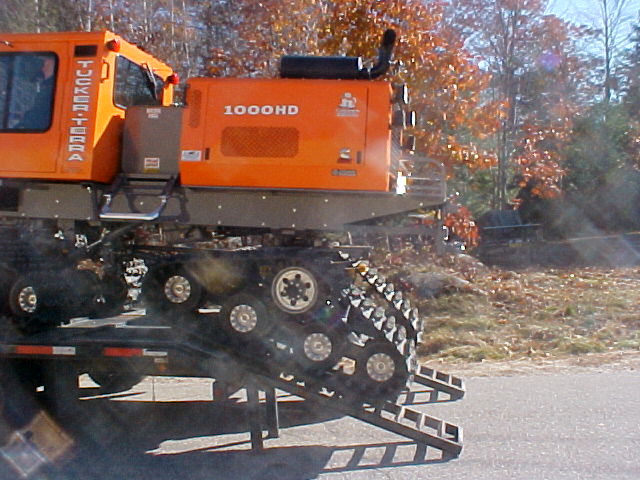 Groomer Fund Raising
Any one wishing to make a donation can do so by mailing it to the Moultonboro SMC, PO Box 118, Moultonboro, NH 03254. Please note on check "Groomer Fund" Link to Fund Raising details
http://www.moultonborosmc.org/announcements.htm
Groomer Commissioning
Saturday, January 3rd will be the Commissioning of our New Tucker 1000 Groomer. This event will be held at the Club Garage on Highway Garage Rd. off of Moultonboro Neck Rd. From 10:00 am to 12:00 Noon.
This will give every one a chance to see the New Tucker up close and see how it operates.
Groomer Operator Meeting Dec. 7th (Leo Lemoine)
There will be Safety and Training meeting on Dec.7th at 9:00am at the Club Garage. Please contact Leo if you have any questions. 603-253-4332
Fall Trail Work
has started for this season. Anyone wanting to help only needs to show up at the Club Garage on Saturdays at 8:30 am. Dress appropriately for the conditions and bring a pair of work gloves. Check the website for up-to-date information
www.moultonborosmc.org
We also have a Trail Work group that works on various projects during the week. If it is easier for you to help on a week day please call Leo Lemoine for a time and place to meet 603-253-4332.
Board Positions Filled
At our Board of Directors meeting on the 26th of October we were able to fill the positions of Director and Secretary. We would like to thank Pat Venuti for taking the position of Director and Paul Driscoll the position of Secretary. Welcome Aboard!

Annual safety Course
, We will be conducting the Annual Safety Course again this year on December 20th at the Geneva Point Conference Center, 108 Geneva Point RD, Moultonboro, NH (off Moultonboro Neck RD). The class runs from 8:00 am to 4:00 pm. You need to pre-register for the class. Please call Steve Janaitis to make your reservations @ 603-253-6707.

Club Trip to Maine Friday Jan. 16, 2009 through Monday Jan. 19th (from Steve Janaitis)
Location: North Country Rivers
36 Main Street Route 201
P. O. Box 633
Bingham, Maine 04920-0633
800-348-8871
www.northcountryrivers.com
Trails: A main ITS (corridor) trail is across the street or behind the facility. Trails go to The Forks & Jackman up North, Greenville to the East, around Moosehead Lake, about 271 miles. Behind the facility they go to North Anson along the river and over to Kingfield (Carrabassett Valley) or to Rangeley.
There will be at least two groups riding, the long distance riders or a slower pace and shorter ride each day. More details will be posted on
www.moultonborosmc.org
HELP!
We are looking for people to Chair and organize several Club activities. If you are willing but not familiar with what is needed we can give guidance as to what has to be done to organize these Events; Bon-fire, Easter Seals, Summer Picnic.
Check out our Website for the latest information on Club Events and Trail Conditions.
www.moultonborosmc.org
Here are some links to several local Snowmobiling Forums:
Winnipesaukee Forum
http://www.winnipesaukee.com/forums/
SledNH
http://www.slednh.com/forums/index.php?act=idx
NHSA HOT NEWS PAGE
http://www.nhsa.com/news.shtml
See you on the Trails, George