Quote:
Originally Posted by
SIKSUKR

I only use the "new posts" tab
. Its clearly labeled Boating Issues on the right side of the thread. Let it go and stop reading threads you don't like. Much more annoying to a lot of us is when people whine

about this stuff in those particular threads when it is CLEARLY labeled for them to see which ones to avoid.
I've changed my opening tab to "Lake Issues": those threads appearing on the screen would be the threads to avoid where controversy is an issue.
"New Posts" would be your next stop.

Quote:
Originally Posted by
LIforrelaxin

APS, at 5:48 this video is over.... the scenes that you refer to happen between 1:00 and 2:00 mins.... I have watched several times, and I will agree that you do see the "anchor hatch" open, however I don't see an evidence of a flying anchor. This video is extremely poor quality, so it is incredibly hard to say anything concrete....

I can certainly conjecture, as you have done, but it is simply conjecture without any proof... hence I will not conjecture.... the fact of this video, is that the boat was in turbulent water, and the passengers and boat paid the price.
​​•​ ​One of
Tres Martin's
[performance-boat school] instructions is,
Quote:
"Never let your boat land on its side."
(A
very
strange admonition to most of Lake Winnipesaukee's family boaters).

​​•​ ​With this thread "renewed", an oversight needs to be addressed:
While the anchor did fly out of the hatch, it
didn't
disappear into the mist, as I wrote.

For several frames, the anchor can be seen being towed behind—
hydroplaning
—in the boat's wake.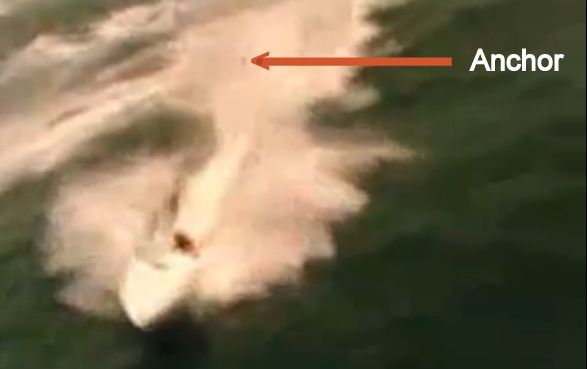 .