If you view the WeirsCAM regularly you've probably noticed that it has been having serious problems since the spring and usually does not update. For those of you who have asked or anyone else who is interested here is some information about the problems and coming solution:
I've been operating the WeirsCAM since 1999. During that time the camera has been upgraded several times to provide better resolution and more features. The last camera ran for 5 years without trouble but could not deliver an image larger than 640 X 480. To allow for a larger image and H264 streaming I purchased an expensive Axis camera last year that was loaded with features. It was integrated into its enclosure with a heater unit and motorized lens that would allow me to make all lens adjustments remotely and had lots of other advanced features. It seemed like a dream come true.
The camera worked OK during the fall and early winter but started having problems around January 1st. It started losing some of its settings and I found myself resetting them (remotely) almost daily. Since the camera is not physically accessible during the winter I crossed my fingers and hoped I would be able to nurse it through until the spring using the remote connection.
A few months later the problems got worse. Now it would not only lose settings but also freeze up (or drop power?) making it impossible to access. When the power was cycled it would work for anywhere for 2 hours to 2 weeks before freezing up again.
Troubleshooting this was not easy, especially since I live several hours away. This spring and summer I made 5 trips up to step through the possibilities. Although the camera itself was the likely problem there was also 200' of cabling, junctions, connectors, heater, lens controller and power supply to consider.
On each visit I tried one thing so I could isolate the problem. In each case the camera would work fine for several hours or days before freezing up again. A few times it seemed to be working perfectly but had frozen by the time I got home. You can imagine my frustration.
Last week I made my final attempt. A few hours later it froze up again and it now can only be the camera itself. It needs to come down and go back to Axis. When it comes back it will go on Craig's List. Reliability is a must for a remote webcam and the Axis camera didn't make it through the 1st year.
The good news is I've got another camera ready to install in the next few weeks. It's a Stardot Netcam like my older cameras and will hopefully be as reliable. It doesn't have all the bells and whistles of the Axis camera but can deliver a 1024 X 768 image and simple video streaming.
Thanks for your patience as I worked through this. I hope to have the WeirsCAM back to normal soon.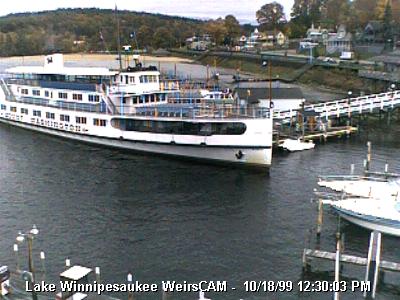 One of the first pictures captured by the WeirsCAM in 1999.
The camera was pointed out over the water soon after.